Getting with the program: A BOXING CLUB WHERE LIFE IS THE MAIN EVENT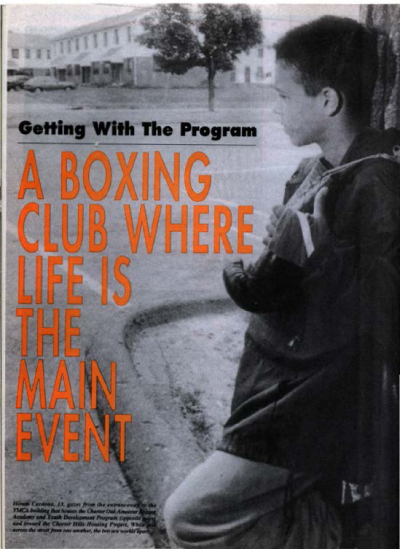 Richard Walker stood before the Fountain of Youth and watched pensively as an unforgiving auburn sun began to set on his childhood and his age of innocence.
It was the night of his senior high school prom.
"It means the end of the old," Walker sighed, his eyes as big and brown as chestnuts, and glimmering with a mixture of wonder and regret.
It seemed fitting that this 18-year-old amateur boxer prepared for his ultimate high school social affair not at his home, but in the dusty, sun-drenched parking lot of a Hartford, Connecticut, Housing Authority YMCA Youth Development Building. Crammed inside this humble facility is a place he and 34 of his teammates have called Home, The Oasis, or The Fountain of Youth.
It is Hartford's Charter Oak Amateur Boxing Academy and Youth Development Program, a.k.a. The Program.
Founded in 1988 by John Callas, an amateur boxer and former boxing head coach at Central Connecticut State University, The Program uses Olympic-style boxing to reach high-risk inner city boys and young men. Operating under the rules of USA Boxing, the club affords its members, ages eight to 23, the opportunity to compete in a host of state, regional, and national tournaments, including Golden Gloves, Silver Mittens, Junior Olympic Championships, and the USA Boxing Championships.
But as Walker and the other boxers have discovered, The Program is more than a training ground for fighters. For many of its members it is sanctuary from the streets, from the drugs, from the thieves. For Walker, The Program has served as a conduit to his African heritage and to his soul.
"I would do this any day. I would skip the reception to be here," he said.
In addition to teaching the nuances of the sport to its members, The Program also offers a variety of personal, social, and life skills courses during its summer-long Champions of Life program. Thus, when boxers aren't practicing their jabs, they're learning about self-esteem and the dangers of drugs, promiscuity, and AIDS. Here, members are taught how to correctly apply for college or for a job. And how to fish for trout or raft on a raging Connecticut River.
Boxing gets them through the doors; The Program gets them through life.
"Sports is an excellent vehicle, especially for kids who can be difficult to reach," said Callas, 31, also the USA Boxing chairman of Junior Olympic activities in Connecticut. "Sports is an innovative way to do that, to teach self-confidence, self-esteem, work ethic, the whole bit. I think boxing is second to none as far as a teaching vehicle of life because it's such a difficult, demanding sport. It takes a total life investment, and the payoffs are reflective of that. These kids have skipped over their age of innocence."
Located in the Charter Oak Terrace Project, The Program is an oasis amidst the carnage of a neighborhood war zone. Each time a boxer emerges from the YMCA building that houses the gym, he is met with a vista of turmoil and despair: the ghetto.
Rows upon rows of barracks-like houses crush upon each other, making privacy a novelty. Windows are covered with bars to protect tenants from the Drug Lords, War Lords, and Gang Lords. Adults huddle on cramped front steps, their eyes glassy with apathy or despair. It's no wonder: Last year, eight murders and 238 drug-related arrests were recorded there.
Some of the boxers live in the Charter Oak projects. For others, such as Walker, who grew up in suburban South Windsor, the ghetto serves as a reminder of what his life could have been had he not met Callas.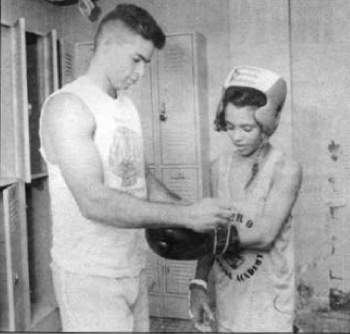 "I think of boxing as a metaphor for the search I've used," he said. "It was a concrete thing I had."
Walker's parents were divorced when he was 13. Two years later, his 16-year-old brother Michael contracted encephalitis, an inflammation of the brain that has resulted in aberrant behavior.
"I was losing him [Michael) and the Coach was there. He was someone to go to," said Walker, a 1993 Region I and New England 165-pound Junior Olympic champion. "Boxing was something to concentrate on."
Callas, or Coach, as he is fondly referred to, was there when Walker needed him most at the 1994 Junior Olympic National Championships, held at Gulfport, Mississippi. On the day of the tournament weigh-in, Walker came down with an agonizing case of chicken pox. As the pox spread, Walker's shot at national boxing recognition dissolved into a dream.
"What followed," recalled Callas, "was our talking and counseling him and telling him that certain things are within your power and certain things are not"
Walker has taken The Program's lessons to heart. He has learned to master his own destiny. This fall he will study history at Hartford's Trinity College. He will look to the past to find a solution for the ghetto's problems of the present and future. Perhaps he will once again pick up his boxing gloves.
"I see people who need help," Walker observed. "I see drug dealers and kids who are going to grow up to be drug dealers. I see the jails that are being built now that these kids are going to be in. I feel that it is my duty to go to school, learn about my culture, and come back here to help."
Walker's case typifies the reach and power of The Program. "Boxing is just a part of it here," said 22-year-old Robbie Ford, one of The Program's original members. "The goal of The Program is to get you to go to school, get your education, go to college, and get a job. Boxing is something to do, something to keep the kids' attention, so they can listen."
Ford, who grew up in the Charter Oak projects, turned to The Program when he was 15.
"I had a pretty normal childhood," he laughed bitterly. "I bad a father who sold drugs; he got busted and spent time in jail. My father never quit a job; he was a hard worker. He went to sell drugs to feed the family. My mother would go off on me and my sister physically and emotionally. My dad did everything, but when he was busted, there was no one there but Coach."
Callas was there seven years ago when Ford twice ran away from home. He was then, as he is now, a surrogate father, teacher, and disciplinarian.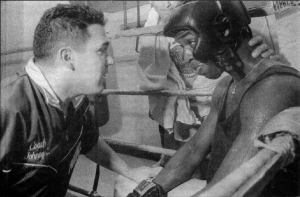 Thanks to Callas' guidance, Ford is now married and living in the north end of Hartford. He will continue his college education at Central Connecticut State University, and promises to one day be a social worker or an elementary education teacher. That way he can impart The Program's values and message to other inner city kids.
You have to be a survivor to succeed in boxing," concluded Callas. "It's the closest thing to war. It's the closest thing to going in there and facing death ... these analogies with life are tenfold. I tell them they are going to have to learn to lose gracefully. You're going to have ups and downs in life, just like in the ring."
In a way, it's ironic that Callas started his own gym and youth program. Unlike most of his students, he grew up in a stable family and had a typical childhood and adolescence. After a six-year career as an amateur boxer and a three-year term as boxing coach at Central Connecticut State University, he hung up the leather mittens in 1988 to focus on a career as a social worker for the Connecticut Department of Children and Youth Services.
His job, however, took him into the ghetto, to dysfunctional families, where fathers pushed crack cocaine to pay the bills and kids were beaten physically and battered emotionally.
He knew he had to do something to try to combat the strife he encountered daily. With the support of the Hartford Housing Authority, Callas opened the Charter Oak gym in October 1988, utilizing space within the Hartford Housing Authority YMCA Youth Development Building. Two years later, The Program was incorporated as a non-stock, non-profit corporation.
The grass roots program relies on corporate and personal donations, as well as foundation grants to provide the $50,000 per year it takes to operate. The hours are long, but with his wife, Dionesa, handling most of the administration and travel duties, Callas gets by. "It's a labor of love," he said.
The rules are few. Boxers must train three times a week. They cannot take drugs, and they must attend school. In return The Program acts as a case manager for each ember, addressing his unique needs. Should a student need help at school, Callas will talk to his teacher. If he needs counseling, as some do, Callas will obtain it.
"Our goal is not to have them make pros," he explained. "It is to arm the kids and have them learn to be positive people in society."
The gym area is modest, some 30 by 50 feet. In the summer, when the Academy is its busiest, some 35 boxers can work out comfortably. There is adequate space for sparring, and heavy-bags and speedbags are placed throughout the room. Of course, no boxing gym would be complete without a regulation-sized ring.
The gym is filled with symbols the underscore the purpose of The Program. Posters adorn the walls warning boxers the danger of drugs. Mirrors the length of one wall. There is no running from oneself here. Every time a boxer looks in the mirror, he is confronted with himself, his past, and his present identity.
Hiram Cardona, 13, knows what it is to come to grips with one's past. Four years ago he lost his age of innocence. On May 22, 199, he and his seven –year-old brother, Orlando, watched as their stepfather used a machete to murder their mother.
Cardona can talk about the tragedy now. Two years of therapy, as ocean of shed tears, and the tutelage and love of Callas have helped revive an all but lost childhood.
"I want to be somebody," said Cardona, "I want to be successful."
A 75-pound intermediate Junior Olympic fighter, Cardona was the 1994 New England Junior Olympic champion and Region I Junior Olympic titleholder. But Cardona's most precious victories have come in the classroom. He recently graduated from eighth grade–no small feat, considering he nearly gave up the books after his mother's death. Now an honor roll student, Cardona this fall will take special college prep courses at Hartford Public High.
Like Walker, Ford and the other older boxers, Cardona is a mentor to his protégés.
"When I come into the ring, there's kids eight and nine years old who look up to the older kids," he said. "Sometimes when I come in here I fool around, and they fool around. If I'm serious, they're serious. Whatever I do, they do."
He is a role model because he is living proof that with the guidance of The Program, any person can be what he wants to be.
"We're doing a lot of great things here," said Callas. "The vehicle [boxing] is just incredible."
At the Charter Oak Amateur Boxing Academy and Youth Development Program, boxing may be the vehicle that gets the fighter into an arena called life. But it's a Fountain of Youth provided by Callas and The Program that helps heal injured souls and allows a kid to once again be a kid.