Trinity College Boxing Club Builds Community Connections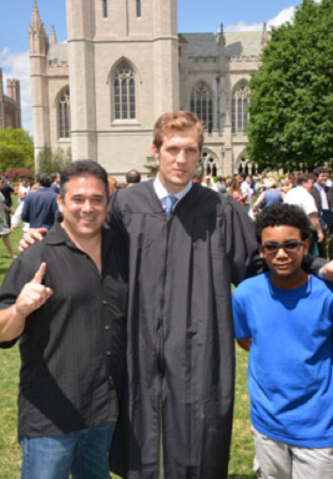 HARTFORD, CT, SEPT. 28, 2015 - New connections are being made in the ring at 1055 Broad Street, where the Trinity College boxing team works out alongside younger local boxers from the Charter Oak Boxing Academy (COBA). "This is an inaugural approach to see a Trinity team connect with the community and create mentoring opportunities that will benefit both groups," said Kathy Kilcoyne, assistant director for recreation at Trinity College.
Before Trinity Boxing Club President Oliver Lykken '16 was introduced by then-Trinity senior Max Szapary '15 to his boxing coach, COBA founder Johnny Callas, last spring, Trinity boxing had been a non-sparring club that worked out in Trinity's wrestling room. Callas used his energy and expertise to help the club find a temporary space in the Thomas W. Raftery, Inc. building where the Hartford Police Athletic League (PAL) boxing program practices. Starting next semester, the team will make its home off of Hamilton Street at the new COBA, which is currently under renovation.
The growing team of Bantams is now ready to compete in the East Bracket of the National Collegiate Boxing Association along with U.S. Coast Guard Academy, West Point, Penn State, and UMass, among others. It will compete nationally against teams such as the U.S. Naval Academy, West Virginia, Air Force Academy, and Cal-Berkley.
This year, more than 100 Trinity students initially expressed interest in joining the boxing club, and about 35 participate consistently. About 60 percent of the boxers are male, and about 40 percent are female, Callas said.
The team meets on Tuesday and Thursday evenings at the Hartford PAL boxing facility on Broad Street, three blocks from campus. "For team members who will compete, there will be additional workouts," Callas said. "We will compete at five collegiate invitationals and ultimately the national championships, as well as other in-state USA Boxing Amateur shows."
With Callas as their coach, the Trinity boxers are mentoring 20 COBA boxers from across the Greater Hartford region who range in age from 8 to 18. The COBA boxers - both boys and girls - range in experience from novices to USA Boxing and Golden Glove champions who compete in the state, as well as regionally and nationally. Currently they come from Hartford, East Hartford, New Britain, and Windsor.
The Trinity team plans to add a tutoring component to this relationship next year, allowing the student-athletes of all ages to have more interaction outside of the ring as well. "In the fall of 2016, students coming from the boxing club and potentially other clubs will begin tutoring COBA kids in the Trinity/COBA Educational Center, which will be located right in the newly-renovated academy off of Hamilton Street," Callas said. "They will also introduce them to college academic life and activities."
Kilcoyne said, "The potential of this connection is so great. The community kids can gain the skill set to make themselves successful and learn what they can do in the future, and Trinity students will have their eyes opened and really make an impact."
As Callas explained, "The goals of the program are simple: to keep kids alive, out of gangs, off drugs, in school, and moving into some form of higher education."